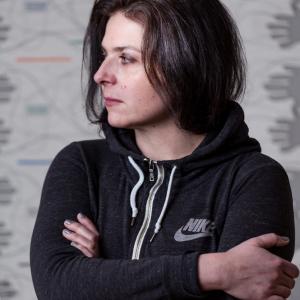 Sabina Rak
Artist member since 2019
Montreal, Québec
Sabina Rak works and lives in Montreal. She has a B.A. and an M.A. in art history as well as an undergraduate degree in fine arts. She's been exhibiting her work since 2011 and she is interested in the intersection between science and art.
Winner of the 2012 Albert-Dumouchel award for emerging artists in print media, she is also one of the finalists of the Untapped Emerging Artists of the Artist Project 2017, Toronto, as well as the winner of the Curator's award at the Symposium en arts visuels d'Anjou 2017.
She has been received as an artist in residence at Atelier Engramme in Québec City, at the Centre 3 for Print and Media Art in Hamilton, as well as at Centre Sagamie in Alma, QC. She has presented two solo exhibitions in 2018, in Montréal and Trois-Rivières, QC.
Working with drawing, digital print and linocuts, her fields of interests are the systems of life and creation, the limits of human perception, the physics of time, as well as the definition of what is life. She is intersted in the way everything is physically composed and mentally interconnected.
Profile photo: Teresa Ste-Marie
Select Past Exhibitions
2018
Centre de diffusion Presse-Papier, Trois-Rivières, QC
Peaux (Skins) - solo exhibition
2018
Centre d'exposition Goncourt, Montréal, QC
Visual Essays in Astronomy - solo exhibition
2014
Centre3 for Print and Media Art, Hamilton, ON
Connector - solo exhibition
2016
Living Arts Centre, Mississauga, ON
Systems and Sequence
2017
Ville d'Anjou, Montréal, QC
Visual arts symposium and exhibition
2014
Maison de la culture Frontenac, Montréal, QC
Substances
2012
ARPRIM, Montréal, QC
Exhibition of the Albert-Dumouchel Award finalists
Accolades
2017
Visual arts symposium and exhibition, Ville d'Anjou, Montréal, QC
Curator's Award
2017
Artist Project, Toronto, ON
UNTAPPED Emerging Artist
2012
ARPRIM, Montréal, QC
Albert-Dumouchel Award for emerging artists in print media
Residencies
2017
Centre SAGAMIE, Alma, QC
Digital print residency
2014
Centre SAGAMIE, Alma, QC
Digital print residency
2014
Centre 3 for Print and Media Arts, Hamilton, ON
Residency for emerging artists
2013
Atelier Engramme, Québec City, QC
Residency as part of the Albert-Dumouchel Award 2012 for emerging artist in print media
Education
2014
Concordia University, Montréal, QC
B.F.A., with Great Distinction
2002
Concordia University, Montréal, QC
M.A. Art History
1999
McGill University, Montreal, QC
B.A. Art History, Honours
SHARE THIS ARTIST